The Twenty First Inforum World Conference in Listvyanka, Russia
---
The twenty-first Inforum World Conference was held in Listvyanka, Russia from August 25th to September 1st, 2013. The conference hosts were Inforum's Russian partners at Novosibirsk State University. Listvyanka sits on the coast of one of the world's largest and deepest freshwater lakes, Lake Baikal. It is less than 70 kilometers (43 miles) from Irkutsk, one of Siberia's largest cities.
Papers, presentations, and photos are available below.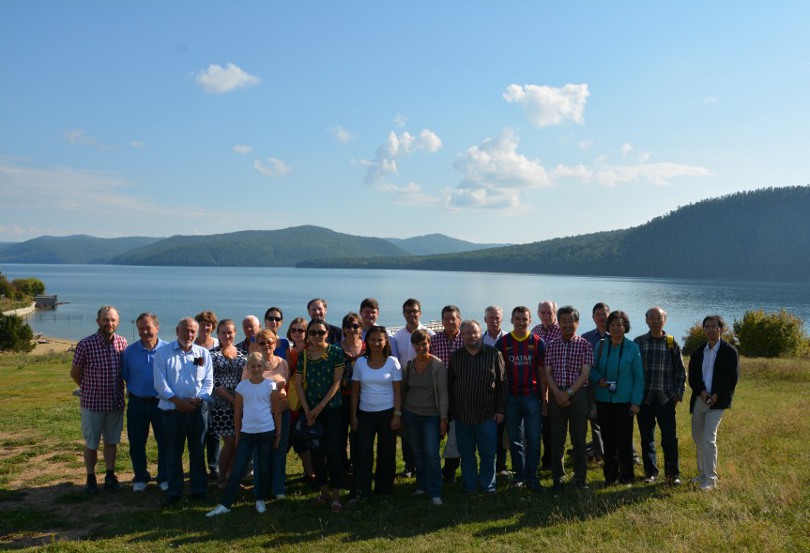 Presentations
The Twenty First Inforum World Conference Listvyanka, Russia August 25 - September 1, 2013
Monday, 8/26/2013
Toshiaki Hasegawa (Japan) Gravity Analysis of Regional Economic Interdependence
Alexander Baranov, Victor Pavlov, & Victor Suslov (Russia) The System of Dynamic Input-output Models for Forecasting the Development of Russian Economy at the National and Regional Levels
Alexander Shirov (Russia) Structure changes and economic growth
Maurizio Grassini (Italy) Much Algebra, Little Economics: Linkages in Input-Output Modeling
Clopper Almon (USA) Progress on Linux and Cross-Platform Version of Inforum Software (Slides)
Tuesday, 8/27/2013
Mariusz Plich (Poland) Long-term Changes in the Polish Economy in the Perspective of Extraction of Shale Gas
Lenar Safiullin & N.Z. Safiullin (Russia) Competitiveness of Russian Regions by Industry by Economic Activity
Shantong Li & Jianwu He (China) Structure Change of Chinese Economy 2007-2010
Ulriki Lehr (Germany) 20% by 2020? Economy-wide impacts of energy efficiency improvement in Germany (Slides)
Ulriki Lehr (Germany) Green Jobs? Renewable Energy in Germany (Slides)
Vadim Gilmundinov (Russia) Estimation of Transition to Inflation Targeting for Russian Economy Development
Remigijs Pocj & Velga Ozolina (Latvia) Macroeconomic Modeling and Elaboration of the Macro-Econometric Model for the Latvian Economy
Ksenia Savchishina (Russia) Economy as Part of Common Economic Space: Analysis and Forecast
Wednesday, 8/28/2013
Douglas Meade (USA) Industry and Macro Implications of New Natural Gas Supplies
Rossella Bardazzi (Italy) Exit from the Euro? Provisional first-impact effects for Italy with INTIMO
Leonardo Ghezzi (Italy) The EU Fiscal Compact for Italy. A preliminary analysis using DANTE.
Nailya Bagautdinova (Russia) The Transformation of Region's Economic Area Governed by the Development of Industrial Region
Thursday, 8/29/2013
Astra Auzina-Emsina (Latvia) Portable Dyme for Latvia's Economy
Loreto Beiritz (Germany) Export induced R&D-expenditures in Germany
Nikita Suslov (Russia) Inter-Sector Inter-Region Analysis: Estimating Consequences of Realization of Large Investment Projects in Energy Sector of Russian Economy
Sonya Kaminova (Russia) Current Progress on the RIM Model
Thursday, 8/29/2013
Yinchu Wang (China) The Conversion and Adjustment of National IO Table Series from WIOD - The Case of Turkey
Vadim Potapenko (Russia) The Consequences of Social Security Rates Changes in Russia
Other Presentations
Ron Horst (USA) Inforum Software Development in 2013