The Eighth Inforum World Conference at Bertinoro, Italy
---
The eighth conference was held again in Bertinoro, from August 17 to August 19, 2000. Most of the participants continued on to the 13th International Input Output Conference in Macerata, Italy.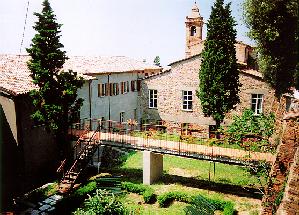 Here is a brief summary of the papers and events of the conference:
Thursday, August 17
In August it is hot in this part of Italy, so we were moving a little slowly this morning. The first order of business was a review of the activities of the various groups. Paul Salmon revealed to us an interesting new set of project courses on the Internet that he will be giving. Doug Nyhus related the current U.S. work, including the India model, the China WTO study, and the work of Dan Wilson. Lucja spoke about the new Poland table under construction, as well as the economy-ecology model of Mariusz. Tomasz Revesz described new work on the DUNA model of Hungary, and thanked Mariusz for his cooperation with them. Bert Smid described work his group was doing for the European Investment Bank on convergence of growth. Bert is also working on exports, imports and productivity these days. The Danes have also been busy, working on updating the database of the Dandy model and developing productivity and consumption functions. Wang Yinchu spoke of his work applying the Mudan model of China to a study of Chinese automobile manufacturing, as well as an updated provincial Inforum model of China. Peng Shengchu described his work on Mudan 2000. We have a new member, Eduard Simchanko, from Belarus. Eduard described his work and his interest in developing a model of Belarus.

For the morning talk, one of our hosts, Massimiliano Iommi described his work on labor productivity. Doug Nyhus described the BTM update using the StatCan database, and welcomed partners to contribute models to the system. After lunch, Clopper and Doug Meade described recent enhancements to G7 and Interdyme. Clopper especially emphasized his work building in optimization in models built with G.

After coffee break, Guy West described his recent work on ARDIMS, and Victor Efimov from Russia announced not only that the RIM model was now RIM II, but that Gosha had married! Maurizio Grassini described the new version of Intimo based on SEC95, and reviewed Rossella's new work, as well as the work that is being done relating capital investment to productivity. Dinner was at Serafina's Osteria, with a beautiful view overlooking the countryside.
Friday, August 18

Mike Field got the day off to a running start by describing his work in developing prices for China's tertiary industries. Paul Salmon presented a talk entitled: "Forecast and New Technology: A Point of View". Tamasz Revesz described their work on the analysis of Hungarian prospects upon accession to the EU. Doug Meade presented his work relating IT investment to the demand for skilled workers in the U.S. economy.
After lunch, Peter Rormose and Asger Olsen presented their paper: "Current Price Identities in Macroeconomic Models", and Lucja spoke about IMPEC 2000, the new Polish model, as well as the study of structural change in Poland. After this, we were treated to a tour of the tower by Clopper.
Saturday, August 19

On Saturday morning, we awoke feeling well fed and well slaked from the dinner of the night before. The morning conference was slow in starting but picked up speed quickly. Gabrielle and Samuel presented some detailed results of their study on labor productivity, and Elisa Quinto educated us about the treatment of financial services in the SEC95 framework. Finally, Rossella presented us with some highlights of a major project to investigate the effects of the changing structure of population on the Italian economy, using cohort analysis.
After coffee break, we discussed plans for the next conference in Switzerland, and proposed to start an Inforum internet mailing list. After lunch, we gathered for a group photo, shown below. That evening, some of us took a walk with Clopper leading the way, to an ancient church favored by Dante. We had dinner and grappa in an excellent pizzeria not far away.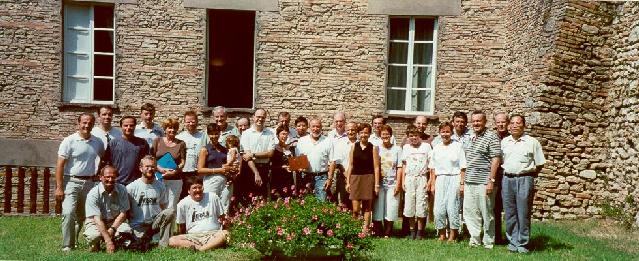 Click for a larger view!